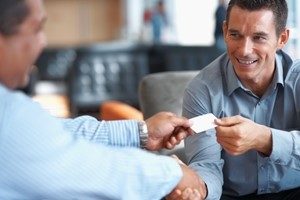 As a mortgage broker, your business card is a quick and easy way of ensuring key contacts have your details to hand. You never know when a networking event might present new opportunities with lenders or buyers, and you don't want to be scribbling your details on a scrap of paper.
Whether you're thinking of branching out into the industry or are a seasoned pro, here are three tips for designing a standout mortgage broking business card.
1) Provide specialty information
Lots of people think that business cards should list the most basic of information, such as job title, address, phone number etc. However, the purpose of your business card is to ensure your services are clear and that your contact gets in touch with you, rather than the competition. Therefore, consider what counts as key information when you want to stand out.
Rather than just stating your job title, replace it with the key services you offer, such as mortgage loan application advice or lender support. If you specialise in helping people with poor credit scores, find a mortgage rate they can afford – make that clear. Simply saying you're a mortgage broker doesn't make you the person they need. Stating that you can help with their specific problems does.
A second side is useful to avoid clutter and allows you to include key business information, such as your registration with a regulatory authority. It may also be helpful if you offer complimentary services, like being a mortgage broker and a financial advisor, or if you are closely connected to another local business, such as a real estate firm.
2) Get it professionally designed
Unless you happen to specialise in design, leave it to the experts. You need something that makes you look like the professional you are. A poorly designed business card on low-quality paper does not give the right message.
No matter who designs your business card, there are a few key rules to follow. Make sure to leave plenty of white space and avoid overcrowding. Too many details mean the key information is easily lost, and your contact may choose not to bother reading any of it.
The design should be simple and clean – heavily patterned backgrounds, for example, can distract from the real information and if not used wisely (and we mean very wisely), make you look unprofessional.
Some people like to include a headshot on their business card, and if you're confident enough to do so, it can help people recall their conversation with you and feel comfortable in reaching out.
If you're tempted to go for something a little different, remember that a business card should be easy for you to hand out, and fit into your contacts' wallet or holder.
3) Keep up with trends, but don't alienate
Lots of business cards now contain QR codes and social media details. Some people like to check out their potential contacts online before they start doing business with them. Making your digital details accessible allow people to connect with your online presence quickly and easily, saving them wasting precious time hunting around.
However, don't alienate contacts who aren't so tech-savvy or interested in social media. It's important to include more traditional contact details, too, so that people who just want to pick up the phone and start a conversation can do so with ease.
Before you get your business cards designed, take a look at the Redrock Group offer. Our members get support with all aspects of their business, including marketing and promotion.