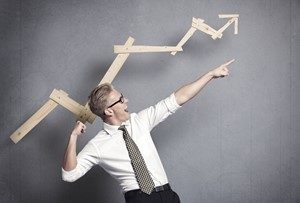 Nobody wants to change their career path and turn to an industry that is failing. It will therefore pay to take into account the business confidence around the Australian economy – once you understand the state of the nation, making the decision to become a mortgage broker might be made a lot easier.
Around the country, businesses are feeling positive effects of how the Australian dollar and global market conditions are affecting our landscape. Couple that with how many property transactions are occurring around the country every year and there isn't a better industry to be in than mortgage broking. You can take advantage of this and get yourself into a growing industry with the help of Redrock. All you have to do is ask.
Business confidence on the rise
NAB Chief Economist Alan Oster believes Australians are growing in confidence more and more when it comes to the business environment.
"Low interest rates and a more competitive Australian dollar are clearly having the desired effect. With global market volatility starting to abate as well, positive confidence levels suggest the risk of contagion from financial markets has probably fallen compared to recent months."
The NAB recorded a solid rebound in business confidence through February after the start of 2016 saw a slight fall. Across trade, profit and employment, business conditions were up by 3 points to sit at 8 – well above the standing average in recent times of 5.
The Roy Morgan Research Business Confidence Index also recorded a great boost – up 5.1 points over February and March to be at 115.7. 100 points is the neutral mark here, so there is clearly a surge at the moment. Australian businesses are feeling good about the current market economy.
Property is benefiting as well
There is a rebound effect on the property market as well. According to a report from Jones Lang LaSalle, there were 2,637 apartments sold in Melbourne alone in 2015. Sydney figures are significantly improved on that as well – 36,130 over the same period.
The housing market is currently strong, with a growing Australian population and a stable economy. People are turning to property for investments, and most of these buyers need a mortgage broker to fund their purchases. That could be you.
If you are keen to cash in on an opportunity to get into a growing market, then Redrock is your best bet. Get in touch today and find out for yourself what a great career choice it is.