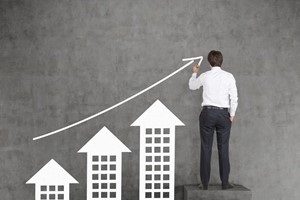 When thinking about a change of career, it's important to note exactly what's going to be driving the industry forward and making your move a positive one.
In the case of becoming a mortgage broker, you'll notice the returns almost as soon as you head into business, as an 8 June media release from the Real Estate Institute of Australia outlines how a decline in growth for house prices around the country is providing impetus for buyers.
The industry generates $1.8 billion in revenue, split among 5,770 businesses. Want a slice of that pie?
As more people make a move to take advantage of the drop in price, so they can save money in the long run and work up to those all-important capital gains, they'll be turning to a mortgage broker for the funding. When this happens, you'll be in the mix and able to provide an invaluable service to them.
Why is becoming a mortgage broker a great career option?
For one thing, you'll be part of an industry that's growing from strength to strength. The IBISWorld Mortgage Brokers in Australia report finds that the industry generates $1.8 billion in revenue each year, split among only 5,770 businesses. Want to have a slice of that pie?
What's more, a whopping 40.5 per cent of those who use the services of a mortgage broker are investors. These form a large proportion of the property buyers in the country, and this will especially be made more obvious with the decline in property prices.
"Over the quarter, the weighted average capital city median house price decreased by 1.3 per cent while the figure for other dwellings went down by 1.1 per cent," said REIA President Neville Sanders.
It isn't as far-fetched to think about owning your own property.
"The quarterly decline in prices can, in part at least, be attributed to the influence of the macro-prudential measures on the housing market introduced to curb investor activity. Compared to the March quarter of 2015, the weighted average median house price increased by 4.1 per cent, while the figure for other dwellings went up by 3.3 per cent."
What will all of this mean?
While the initial action by the government to stop investors dominating the markets looks to have made an impact on affordability, it's also going to be encouraging more people to turn to property as a wealth-creation strategy. As it's looking to become more affordable, it won't be as far-fetched to think about buying a property for oneself.
Do you want to be a part of this industry during an exciting and busy time? Contact Redrock today to see how you can get into your mortgage broking career.