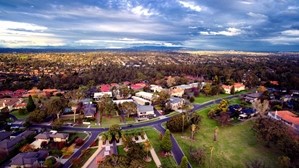 With property prices in Australia's capital cities and larger metropolitan areas continuously growing, more and more first home buyers are looking to buy outside of these areas. If you have a less than perfect credit score yet are hoping to take your first step onto the property ladder in 2017, here are few affordable and promising suburbs in which to spend your bad credit home loan.
Ballarat
This Victorian town is a little over 100 kilometres north-west of Melbourne, with a median house price of $415,000. A former gold mining town and treasure trove for the history buff, the tremendous wealth accrued in the mid to late 19th century made is still evident in the timeless architecture of Ballarat. There's a lot to see and do in this golden city, and house prices are extremely reasonable. Ballarat is a great place to buy, and could be a great place to invest your bad credit mortgage.
Toowoomba
Located in southern Queensland a mere 90 minutes from Brisbane, Toowoomba has a median house price of $375,000. Toowoomba is a gorgeous city with over one hundred public gardens and an annual flower show that brings a huge amount of tourists through. Toowoomba is also located right on the cusp of the Great Dividing Range, making the city a fantastic place to live for the outdoors. Investing your bad credit home loan in a property in Toowoomba would be a sound move.
Mildura
Mildura is in north-west Victoria, right on the NSW border along the banks of the Murray River. The median house price here is just over $255,000. Mildura is responsible for about 80 per cent of Victoria's grape production, thanks to it's multiple celebrated vineyards. Further, Mildura is considered one of Australia's important food bowls due to the agriculturally rich community. Purchasing in Mildura would be a great investment, and would be a considerably low deposit for a bad credit home loan.
Shepparton
Shepparton is located in the north east of Victoria just a couple of hours drive from Melbourne. Like Mildura, Shepparton is an important provider of agriculture to the rest of the state. This city has a strong focus on food, entertainment and art, and as a result there is never shortage of things to do. With a median house price of only $258,000, Shepparton is a great place to buy your first home with a bad credit mortgage.
Though outside of the main city centres and state capitals, these four towns are alive with culture and have plenty of work opportunities. They'll foster your urban lifestyle and there's plenty of room for growth in property prices – making your purchase a great investment.
For more information on bad credit mortgages, contact Redrock today.