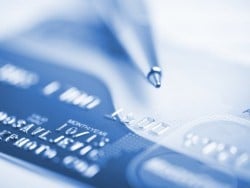 The existence of self employed home loans doesn't mean you're eligible for home finance simply for being your own boss.
While these types of loans are specifically designed with self employed individuals in mind, it's still important for potential borrowers to make themselves as attractive as possible to lenders.
This includes focusing on financial areas such as credit, debt and income.
Credit
Credit is integral for all home loan borrowers, but especially so for self employed individuals. Lenders are concerned with risk, and a self employed person is viewed as a higher risk than others when it comes to the possibility of loan default.
For this reason, self employed borrowers should take special care to keep their credit rating in a strong position.
Debt
The more debt you have to pay off, the less you'll be able to stay focused solely on your mortgage repayments.
This is why it's a good idea to take care of any major outstanding debts before applying for a home loan, such as credit card bills and personal loans.
Income
This can be a particularly tricky factor for self employed individuals.
Most borrowers would want to convey that they have high, steady incomes.
However, many self employed individuals often reduce their incomes for tax purposes, using business expense deductions as a way to minimise their tax exposure.
Unfortunately, the income stated on your tax return is the amount lenders will use to determine how much you can afford to borrow, meaning a smaller amount can negatively influence your borrowing power.
This is where low doc home loans come in, as the documentation required to apply for a low doc mortgage does not have to include tax returns.
Typically borrowers are asked to declare their incomes and provide proof in the way of an accountant's letter, bank statements or business activity statement.
If you're in the market for a low doc home loan, get in touch with the experts at Redrock.