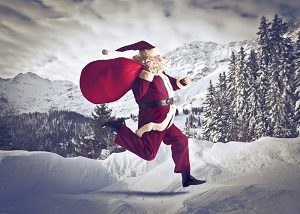 The Christmas season is speeding around the bend like a pack of flying reindeer. This means people will soon be up in their necks in gift buying, wrapping and festive jingles. Not to mention, the surge of Australians frantically packing their luggage to go on vacation.
But just because lots of people are going on holiday, it doesn't mean the home loan market is. There are property buyers in need of financing no matter what time of year it is. This includes many people who don't have stable income or the right documents to prove their earnings, making it difficult to take out a traditional mortgage. In this circumstance, a low doc loan might be just the gift some are hoping to unwrap this festive season.
Speaking of presents, would about Santa himself? If the white-bearded St Nicholas was looking to trade in a certain North Pole toy factory for a piece of Australian real estate, would he need a low doc loan? Let's take a look.
Low doc loan and a partridge in a pear tree
Santa is something of a frequent traveller, to say the least. He traverses every part of the world on at least one night a year, not including other work 'flights' we're sure he makes on a regular basis. This technically makes him a Fly-in Fly-out (FIFO) worker, which the Queensland government defines as non-resident employees who are flown to and from their work site on a temporary basis.
There are many people in Australia who find themselves in a similar situation. Figures from the Australian Bureau of Statistics show that in June 2014, there were 186,920 workers in the mining industry. It's highly likely that a large number of this population are FIFO workers, long-distance commuting in and out of these often-secluded mining sites by plane.
Like Santa, they'll face challenges when attempting to take out financing for a new home. Due to the commonly short-term nature of FIFO employment, income can be irregular. Traditional lenders could find this less than comforting, and be hesitant in issuing you that mortgage. This is where a low doc home loan will be of great benefit, as they have different, less-stringent requirements.
Santa's unconventional work arrangements mean he's going to need a different kind of loan.
Not to mention, the jolly St Nicholas is self-employed, answering only to the spirit of Christmas. This means he won't have the pay slips, letter from an employer or other documents needed for a conventional mortgage.
But the father of Christmas is not alone. According to Civil Society Australia, 2.4 million Australians are also self-employed. If you're a business owner in the same situation, this is where a low doc home loan will get you singing. Your lack of documented proof of income will not get in the way of having a new home under the Christmas tree (or is it the other way around?).