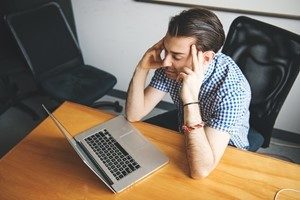 As a self-employed person, you enjoy a great deal of freedom – the freedom to plan your own holidays and be your own boss are both major bonuses.
This doesn't come without responsibility, however, including the need to be more careful about budgeting and planning – particularly when you take out a mortgage.
Fortunately, with the right loan you can manage repayments without too much strain.
What is mortgage stress?
By definition, mortgage stress occurs when repayments cost more than 30 per cent of a total household income.
If, for example, your monthly repayments are $1,500, you would technically need to earn $4,500 per month (or $1,500 per week) to be free from mortgage stress.
Here's where mortgage stress gets that much more difficult for the self-employed: your income changes. So while your repayments may equate to just one-fourth of your total income one month, it could be completely different the next.
There are ways to steer clear of such financial strain when you're self employed. Here are three essential tips.
How to avoid mortgage stress when you're self employed
1. Pay yourself a salary
One of the first rules of running your own business is to pay yourself the same amount in regular increments. This becomes even more essential when you take on a major financial responsibility like a home loan.
To determine your salary, work out what your profits are as you don't want to pay yourself out of business' revenue. You also need to take into account expenses such as:
Taxes,
Payroll,
Rent,
Utilities.
If you need help coming up with a suitable number, be sure to reach out to an accountant. He or she can also help you ensure your bookkeeping is in order.
2. Plan for the unexpected
While everyone should budget and live within their means, self-employed people need to be particularly careful about saving and planning for the future.
That's because the self-employed have a higher degree of financial uncertainty. To steer clear of mortgage stress, make sure you're always prepared for a significant drop in work or even losing your job altogether. You should also have adequate savings for unexpected medical expenditures and changes in lifestyle. When you work for yourself, you need to finance things like health insurance or parental leave on your own.
3. Work with a lender who specialises in low doc loans
As your own boss, you have a different set of concerns than those working more traditional jobs. To avoid mortgage stress, work with a lender who understands those concerns.
At Redrock, we specialise in low doc loans. An excellent option for those who work for themselves, low doc loans don't require the same documentation or paperwork as other home finance options. Plus, because we service so many low doc loans, we can help you secure a competitive, manageable rate.
To find out more, reach out to our expert team today.