Business Loans
Small business finance with no real estate security required.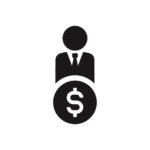 Business Loans
Need funds for business growth or cash flow support?
Get a business loan without all the hassle. We offer a range of finance solutions that provide fast access to funds and repayments tailored to your business cash flow.
With a simple, fast application process, our small business lending specialists will get to know your business and help you find the right finance solution for your needs to put you in control of your business now and in the future.
Talk to our small business lending specialists about a funding solution that gives you the confidence to seize opportunities without the need for real estate security.
Business Loan Features
Our unsecured business loan products come with flexible features and competitive rates tailored for your business.
Note: All applications are subject to normal credit assessment and loan suitability criteria. Terms and conditions, fees and charges apply.
Paul & Cindy M, VIC
Just a short note to let you know we've finally settled into our new property. The settlement process was seamless and knowing that you were in the background gave us both a great deal of…
Michael P, VIC
Being self employed and extremely busy I didn't have time to provide all the income documentation required for financing the recent purchase of another investment property. Red Rock provided…
Business Loan FAQs
Our business loan specialists can often provide a response in one hour provided you apply during standard business hours and allow the use the advanced bank verification system link to instantly verify your bank information online.