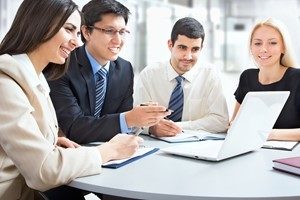 Whether you're a looking to become a mortgage broker or you're a an experienced adviser with a great clientele, you can directly benefit from joining a professional brokers group.
A common misconception about professional brokers groups is that you lose commission earnings or have to sacrifice your own brand upon joining. When you join a professional brokers groups like Redrock, this couldn't be further from the truth. Not only do brokers groups offer their members benefits, but membership in the right group will bolster your personal brand and boost your performance.
If you're keen to join or just want to find out more, consider these three ways joining a professional brokers group can enhance your mortgage broker career.
Access to training and tools
Good brokers groups know that investing in their members is of the utmost importance. It benefits the group to have the most professional, informed brokers, so they'll regularly offer training to ensure everyone is up-to-date on the latest industry practices.
Along this same vein, brokers groups also offer access to new technology and tools you wouldn't be able to afford on your own. At Redrock, we offer our members training and access to Symmetry, a cutting edge software that does everything from storing loan documents to tracking customer relations.
A reputable brand
If you're new to mortgage broking, aligning yourself with a well-known, reputable group will immediately boost your appraisal in the eyes of many customers. Buyers can be sceptical of working with a broker in the first place, so it can be nearly impossible to build a clientele when no one's ever heard of you.
Experienced brokers may worry they'll compromise their personal brand and reputation by partnering with a group. The right group, however, knows you've worked hard to become the broker you are, and will help you secure this position. At Redrock, we encourage our brokers to work independently and even give them the resources to enhance their brand with a variety of marketing tools.
A bigger lender panel
In your client's eyes, the more lenders a broker has access to, the better. It's simple supply and demand. If you work with more banks, you'll be more likely to obtain the loan your customers are after.
Building relationships with major banks and financial institutes takes time, so many starting mortgage brokers don't have the most attractive lending panel. When you join a professional brokers group, you immediately gain access to their lenders, so be sure to join one with an impressive roster.
Not all professional brokers groups are created equal. Be sure to get the most out of your membership and join a group whose benefits align with your career goals.