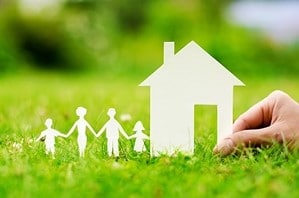 Having a bad credit history is not the be all and end all for getting a home loan, and you may not be penalised as much as you think. Here are three commonly held bad credit myths debunked.
1. I keep getting rejected for credit, I must not be able to get a home loan
If you haven't already, it's a good idea to obtain a copy of your credit report from a credit reporting entity (you can get it for free once each year), and find out what may be the cause of your bad credit.
If your bad credit score is because of an old default, such as when you just started working and missed a few direct debits; or if it is because of some abnormal one-off circumstance, like ill health or a business failure, you still have a chance of securing a loan.
Talking to specialists in bad credit mortgages, like Redrock, can help you negotiate finance.
2. I need a larger deposit to secure a home loan

Not necessarily. Of course, a greater deposit means that you're more likely to be granted a loan, and a lower interest rate, but having a minimum deposit of 10 per cent plus transaction costs (stamp duty, fees and charges) can be enough with the right circumstances. Some lenders require you to have Lenders Mortgage Insurance if your deposit is under 20 per cent, which may be hard to come by if you have bad credit. This can sometimes be bypassed by paying a higher rate of interest.
3. I have a bad credit history and am self-employed, no one will want to lend to me

This is where talking to non-conforming mortgage advisers can help. If you are self-employed in a sustainable business, there is a chance that you could be eligible for a bad credit loan or low doc loan.
If your credit history is only blackened by the situations mentioned above, we could try to help find a solution just for you.