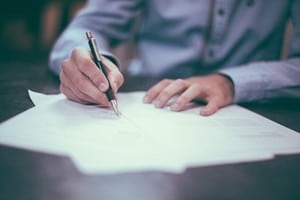 So you've gotten the plans together and you're ready to bring your business to the next level. Now what? Applying for a business loan from a reputable lending service is a great way to get the initial funding you need to take those next steps. Although it's not a universal requirement, most lending services will need you to do an interview with them so that they can get a sense of whether you will be able to effectively pay them back. While the experience can be nerve-wracking, knowing the kinds of questions you will be expected to answer can go a long way toward making sure that the interview goes smoothly. We have five of the most common questions lenders ask below.
Why do you need a loan?
This may seem obvious, but you still need to answer it. What specifically are you trying to accomplish with the money, and how will it help your business grow? If you don't have the answers to these questions yet, it's a good place to get started.
How would you describe your business?
Lenders are looking for viable businesses that have the potential for long term growth and success. Be sure to be clear about what your business does, and why you see an opportunity for it to grow.
What is your business plan?
To get a loan you will need to be able to show that you have a long-term plan to grow your business. Be ready to talk about basic information like your target market, current and projected financial information and the team you'll be working with. In most cases, you will have already submitted a paper business plan prior to an interview, so this should all be easy.
What is your expected timeline for repaying the loan?
The lender will need to know how quickly you expect to pay back the loan. Use market forecasts and other data and be realistic, otherwise you could have problems down the road. This will help determine what kind of plan the lender can offer you.
What is your credit rating?
Lenders only want to give money to people who have a strong record of making their payments on time. You need to be able to show that you are that person. If there are any issues in your past, be ready to explain it to them and walk through why it won't happen with their loan. Be honest. While getting a loan with a bad credit rating can be a challenge, it absolutely doesn't have to be deal breaker.
For more information and advise contact the team at Redrock today.