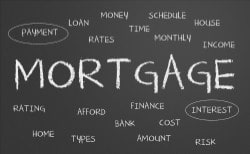 For instance, some loans are specifically geared for purchasing property, while others may be more suitable for refinances with unlimited equity release.
Then there are low doc loans for debt consolidation and business expansion. Also, just like standard home loans, low doc mortgages can come with a variety of features attached.
Sometimes it may be better to lose some features, such as the necessity for mortgage insurance.
The important thing to remember is that different low doc loans will likely come with unique loan-to-value ratios (LVR), as well as separate documentation requirements.
Different loans, distinct criteria
For instance, say you want to build a new home for you and your family. Chances are you'll need some capital, and Redrock Mortgage's Low Doc Construction option may suit your needs.
This loan comes with a maximum LVR of 80 per cent and will require a self-certification and an accountant's declaration. You must also supply an Australian Business Number (ABN) that has been in use for a minimum of one year.
With this loan, you can be on your way to constructing a single residential dwelling even if you don't have all the paperwork that may be necessary to obtain a mortgage from many other lenders.
Another example would be the Low Doc Easy loan. This product has a maximum LVR of 85 per cent.
Documentation requirements include self-certification, six months worth of bank statements or six months worth of business activity statements. If neither of those is available, an accountant's letter can also work. Your ABN must also be good for at least 2 years.
The Low Doc Easy loan allows you to purchase up to 85 per cent of a property or refinance up to 80 per cent. Even better, any paid or unpaid credit impairments older than 36 months and minor defaults will be ignored.
If you want to know more about your low doc loan options, talk to the specialists at Redrock.