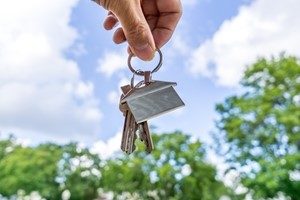 A bad credit mortgage could be the solution that helps you move into a newly built home. For those with a poor credit history, a specialist mortgage loan like this is the best way to get the money you need to buy the home of your dreams as the acceptance criteria is more flexible. Bad credit lenders make allowances for those who have existing debts, or have a low credit score due to their spending history.
How does a bad credit mortgage help?
Lots of Australians are looking at newly built homes because they're modern, have environmentally sound design and can be more economic to run as a result. In fact, around 4500 newly built homes are sold every month according to Trading Economics data, and that figure hasn't changed much over the last year.
Whatever your reason for wanting a newly built home, if you have a bad credit history, you'll need to talk to a specialist lender before you do anything else. A bad credit mortgage lender looks at more than just your credit score, which is the general criteria used by prime loan originators. Specialist lenders may:
Overlook a bad credit score, with many avoiding the measure entirely.
Look at the reasons for your poor credit history, such as whether it's late payments on your credit card or bankruptcy, and weight them accordingly.
Evaluate your current circumstances and what kind of customer you're likely to be going forward.
Having a bad credit mortgage may mean you're subject to slightly higher interest rates. However, being able to buy a home puts you in a good position to repair your credit history so that you can look at a wider selection of loans when you come to renew your mortgage in a few years' time.
Finding a bad credit mortgage for your new build
Talk to a specialist lending broker: One of the most useful things you can do is to talk an industry expert. Specialist lending mortgage brokers focus on connecting borrowers who don't meet prime loans criteria with a lender who'll work with them. They'll know which lenders are likely to accept your application, and the types of interest rates you can expect to pay. Don't waste time applying to the wrong places when a specialist can help you target your loan applications effectively.
Check your deposit and loan-to-value ratio needs: Some bad credit lenders only work with those able to put down a higher deposit and therefore with a better loan-to-value ratio. While these lenders accept your less-than-perfect credit history, they may still want some assurance that they won't lose completely if something goes wrong. A higher deposit provides this reassurance and may mean your new home mortgage application is accepted more widely.
Understand new home loans: If your new build is a home you're designing and constructing off your own plans, you might be looking at a construction or 'house and land package' loan. There are rules around these kinds of loans, with some stipulating that you must not build on the land immediately after purchase, while others expect you to start construction straight away. Depending on the deal, funds are not released until a certain time, which could significantly affect your plans if you don't pick the right type of loan.
If you're keen to speak to a specialist lending broker, talk to the Redrock team today. We can put you in touch with an experienced broker who'll help you find the mortgage solution that works for you.