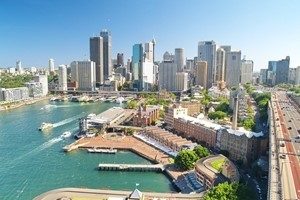 Commercial property often proves a lucrative investment for people who do their research and make shrewd purchasing decisions at the right time – and low doc loans could help you secure your next piece of real estate.
Earlier this year, the Property Council-IPD Australia All Property Index revealed that office buildings provided total returns of 15.1 per cent in the year to March 2016. This was up from 11.9 per cent in the 12 months to June 2015.
Retail and industrial buildings also experienced solid returns of 12 and 15 per cent respectively, with commercial property equities outperforming other investments significantly over the year. Commercial real estate offered returns of 9.2 per cent, while bonds provided just 1.6 per cent and shares slumped 11.3 per cent during the same period.
Let's take a closer look at commercial property hotspots in Australia, as well as how low doc loans can enable you to take advantage of growth in the market.
Sydney rental growth hits 20-year high
Sydney is the standout performer in the office block market, with the NSW capital experiencing high tenant demand and short supply, resulting in the highest rental growth in two decades.
CBRE research showed prime rents climbed 2 per cent and secondary rents jumped 8.3 per cent over the September quarter, which means the city is set to match or exceed its pre-global financial crisis performance.
"The Sydney CBD remains fiercely competitive, underpinned by a real shortage of quality A and B grade alternatives and strong rental growth," stated CBRE Advisory and Transactions – Office Regional Director Andrew Tracey.
Meanwhile, the Melbourne CBD saw growth in prime and secondary rents of 0.5 and 1.2 per cent respectively over the same three-month period. Annual figures were even more impressive in the Victorian capital, with prime rents climbing 4.2 per cent and secondary rents edging forward 3.5 per cent.
Low doc loans for commercial property investment
The All Property Index and CBRE figures suggest now may be a good time to consider commercial property investment in Sydney and Melbourne. CBRE also indicated that the Brisbane CBD is improving, and delivered firm yields over the September quarter.
Low doc loans can provide people who don't have up-to-date financial documents, such as self-employed workers, with the finance needed for commercial property.
If you're considering striking now while the iron is hot, please contact one of Redrock' commercial lending advisers to discuss suitable options for your circumstances.