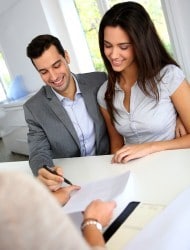 While there are many property hot spots popping up around Australia, certain demographics are finding it difficult to enter the market, particularly first home buyers.
However, initiatives put in place in Victoria are helping to encourage first home buyers in the state and benefit the housing market.
Treasurer Michael O'Brien announced in a January 7 media release that first home buyers have saved hundreds of millions of dollars thanks to stamp duty concessions.
"Over 43,000 eligible first home buyers have realised the dream of owning their own home in Victoria since stamp duty concessions were introduced, saving more than $150 million," Mr O'Brien said.
"This financial year alone over 10,000 first home buyers have saved almost $58 million from the concession. This amounts to more than $6,000 in stamp duty savings on the purchase of a $400,000 home."
The original first home buyer stamp duty concession was introduced in July 2011 and offered buyers savings of 20 per cent. That number was pushed upward to 40 per cent in July 2013.
This helped spur more first home buyer activity in Victoria during 2013 than in New South Wales and Queensland combined.
However, while this is great news for first home buyers, they aren't the only Australians who may find it difficult to enter the housing market.
For potential buyers with bad credit, obtaining finance can be an uphill battle.
Fortunately, options exist for these borrowers. Bad credit home loans are specifically designed to assist borrowers with less than perfect credit, helping them to make their dreams of homeownership a reality.
If you're in the market for a bad credit mortgage, contact the specialists at Redrock.