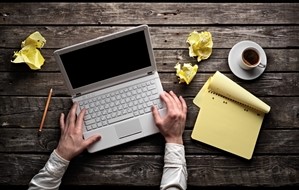 Many people try to carve out careers for themselves in the conventional way – they find a good job with a stable employer, and they stick with it for as long as possible. This way, they can collect a steady income from a reliable source for the long haul. This paradigm isn't for everyone, though, which is why some people choose to be self-employed instead.
Being your own boss has many benefits – you can control your own work, set your own hours and draw up your own long-term goals for your career. There's no one else you have to answer to. There's also an obvious drawback, though – your income isn't always as stable, and that can make it difficult to handle financial transactions such as applying for a loan.
What can be done in this situation?
What it's like to be self-employed
Needless to say, being self-employed is a little different from having a steady job with an established company. According to the Australian Securities and Investments Commission, the key distinction is that instead of signing a contract for a set salary, you're in charge of paying yourself a wage. This amount might vary depending on how your business ventures are going.
This makes it tougher to protect your income against unexpected volatility. Unfortunately, lenders know this, which is why it's often difficult to find self-employed personal loans at reasonable rates.
Why lending gets a little tougher
When you're looking for low doc loans as a self-employed person, it can be tough. Bankrate reported that a lot of lenders are hesitant to give people money if they don't have clear proof of their ability to repay.
Getting a loan as a self-employed individual is like getting one as anybody else – you need cold, hard proof of your ability to make money and repay what you owe. This is tougher for some people to produce than others.
"If they are making money and the tax returns don't show it, I can't help them," said John Stearns, senior mortgage banker at American Fidelity Mortgage.
At Redrock, your options are open
If it sounds difficult to get low-doc home loans when self-employed, that's because it is. But the good news is it's not impossible. One way to overcome this challenge is to work with Redrock, as we understand the challenges of self-employment and we'd like to help you overcome them.
Call us today to find out more about our array of self-employed home loan solutions. Chances are, there's an option that's just right for you, but you'll never know for sure until you pick up the phone.