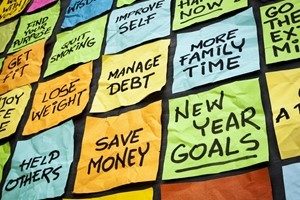 Financial resolutions are some of the most common goals set in the new year, but research from a University of Scranton study published in the Journal of Clinical Psychology shows that only 8 per cent of people actually achieve them.
You might have resolved to improve your credit score after a disappointing few years and red flags on your credit history, but it can be too easy to slip back into bad habits once the years starts to roll on. These black marks can prevent your bad credit home loan application from being approved, but there are a number of things you can do to keep your credit goals on track.
Bills, bills, bills
Between spending time with family and enjoying the warm weather it can be too easy for bill payments to slip through the cracks. Make sure you pay all bills on time – this includes all utilities and any necessary payments on existing loans.
Get up to date on payments. You don't want to fall behind this early in the year so set up reminders and make sure all bills from the previous year are paid.
Credit card danger
Keep track of the balance on your credit card – the holidays might have put a dent in your savings goal, but check how much you owe on each account and what interest rate is being charged. Maintaining a low balance on each of your cards will show that you're managing them responsibly, instead of shifting large amounts of debt around.
Closing down your accounts won't help your credit score, so ensure you're in the best position to pay off each balance and steer your credit rating back in the right direction.
Ask for help
If you're worried that you won't be able to meet your credit resolutions, asking for help from a credit counseling service or a credit repair agency won't hurt your chances of being eligible for a bad credit home loan. It's not an instant fix, but they will go through all of your concerns and investigate the black marks on your account to help you raise your credit score over time.