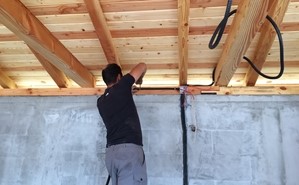 When you're just starting out as an independent contractor, it can be difficult to secure financing for a home because you don't have the documents that might normally be required for a loan.
But with a low doc loan from Redrock, you may be able to get the financing for the home of your dreams.
What is a low doc loan?
A low doc loan is designed for people that have the necessary assets and income to be able to service a loan but don't have the regular paperwork to prove it.
Regular lenders often require a lot of evidence of income, things that people just starting out in contracting may not be able to supply, such as multiple year's worth of tax returns or financial statements.
Depending on the specific product you choose, you may be able to borrow up to 85 per cent of the value of the property you're after. But our loans are not only for straight-out home purchasing. They can also be tailored towards refinancing, debt consolidation, business expansion, covering costly overdrafts, loans for tax debt payment, and more.
What do I need to be eligible?
There are a few things you'll need to apply for a low doc – it's "low doc" not "no doc" after all:
You need to have been self-employed for at least the last 6 months (but preferably 12) with an active Australian Business Number (ABN).
You need to provide some proof of income, be it an accountant's letter, a business banking statement or a business activity statement.
You need enough cash to provide a 20 per cent deposit on the property you're purchasing.
If you can meet these three requirements, you should be set to apply for a low doc loan with Redrock.
What else will my application be judged on?
Once you've applied, there are a number of other factors your application will be judged on.
Credit history – your credit score and past performance in paying down debt will be taken into account.
Net asset position – an application from someone with a positive net asset position will be more likely to have their loan approved.
Property location – if the property is in a high-growth area, your application will be more likely to be approved.
For more information on how Redrock can help you get into your first home, contact a member of the team today