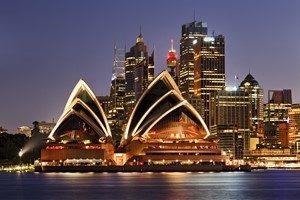 Do you want to live in one of Australia's two most bustling and populous cities? Sydney and Melbourne have the properties for you. You'll have to pay a premium, however, and Redrock have a range of low doc loan solutions to help you get there.
If you don't want to give lots of personal details to the banks or other mortgage lenders, then a low doc loan is the perfect option. All you need is an accountant's letter, and some proof of income. This sort of home loan is particularly useful for people with irregular incomes or who own their own business – the kinds of people traditional lending institutions don't often favour with their approval.
Regardless of how much you can borrow from your mortgage broker, you'll be paying a lot to live in the state capitals of New South Wales and Victoria. Why is that?
Is it really more expensive to live in Sydney and Melbourne?
According to the CoreLogic RP Data monthly indices to the end of September, the median dwelling value in Melbourne is $843,230, and in Sydney that has rocketed over the $1 million mark, to $1,031,370. The next closest is Canberra, at $671,950. That's quite a drop from $850,000.
A CoreLogic report from October 24 analyses how these two markets have been increasing for the last few years. Sydney in particular has risen rapidly for 4.5 years, with the last 12 months increasing by 10.21 per cent.
Through the September quarter of 2016, the median selling price of houses in Sydney was $248,500 (or 39 per cent) higher than Melbourne, which was $16,500 higher than in Canberra in third place. Looking at the past 20 years, however, shows that the difference in sale price of houses in Sydney back in 2003 was higher than it is now. In 2003, the median selling price in Sydney was well over $500,000, and Melbourne's was below $300,000. In percentage terms, that's a difference of more than 40 per cent.
That information doesn't take away from the fact that it's still incredibly expensive to buy in Sydney or Melbourne today. It does, however, point out that it's cheaper to buy in Sydney compared to Melbourne today than it was 13 years ago, when there wasn't such a disparity in supply and demand for housing. If you want to buy a home with a low doc loan and live your dream in Sydney before it becomes even more expensive, then making your move now is recommended.
Why are these two cities more expensive?
Aside from being the two biggest cities in Australia, Sydney and Melbourne are also business centres. Population doesn't account for the value of homes, either. Canberra is a perfect example of this – the Australian Bureau of Statistics reports that the population in the ACT is just 395,200. In Victoria, the population is 6,039,100 and New South Wales boasts 7,704,300.
So it's not based on how many people live in the cities. Where Sydney and Melbourne excel is that they are both places people desire. They're both built on the coast, around some beautiful spots. They're both business hubs where lots of people work. They both have a large apartment market, so people can live close to the CBDs, where the action happens. Other cities around Australia don't have that same combination working in their favour, so the dwelling values aren't as high.
There are also some incredibly beautiful prestige properties in both Sydney and Melbourne, which drives the median dwelling values up – other cities, or states, for that matter, don't have the same number of homes worth over $5 million.
Living in Melbourne and Sydney might sound like a dream, but you'll have to pay for it. Get in touch with Redrock to sort out your low doc loan today, before the prices go up even further.