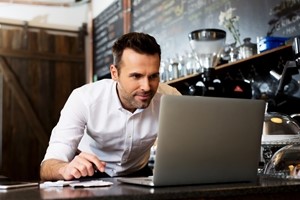 Business activity statements (BAS) are one way borrowers can prove they have sufficient income to qualify for a loan. Where employed people can use payslips to show their earnings, those running their own business have to get a little more creative.
What is a business activity statement?
Every Australian business registered for GST has to lodge a BAS. The form, sent to the ATO quarterly in most cases, breaks down tax responsibilities and payments due.  As soon as you apply for your Australian Business Number (ABN), the Australian Taxation Office (ATO) automatically sends you the relevant paperwork when it's time for you to submit it. Taxes the BAS covers include:
Goods and services tax (GST).
PAYG witholding tax.
PAYG instalments.
Fuel tax credits.
What does a business activity statement show a home loan lender?
A BAS shows lenders not only how much you turnover, but how much disposable income you have after tax so they can determine how much they're willing to let you borrow. It's common for lenders to use a nominal 40 or 50 per cent of the gross annual turnover listed on your BAS as the level of income they'll assess you on, but every organisation does it slightly differently.
Most lenders want to see statements covering at least the last year of business, and some may want to see more. You'll also need to have your BAS verified by the ATO before you can submit it. This does mean that if you're new to being self-employed, you may find it tricky to get accepted immediately. In fact, most lenders require that you've been self-employed in the same industry for at least 12 months prior to application, and that you hold an ABN.
Alternative documentation for self-employed borrowers
Many self-employed borrowers turn to low-doc or alt-doc loans when it comes to purchasing a property. These types of loans fall under the category of specialist lending, a growing market in Australia as more borrowers struggle to meet the requirements of prime lenders. The crucial point for borrowers is that low-doc and alt-doc loans allow applicants to supply different types of documentation to prove their ability to repay the loan.
Even where lenders offer low-doc loans, they still have a duty under the responsible lending guidelines to check that every borrower can afford the loan being sold to them. As a result, you'll usually be asked to present several documents, in addition to your BAS, that prove your financial situation. It might be that a lender is also willing to accept a combination of these other items in place of a BAS, but this is varies across financial bodies.
Other documentation you may be asked to provide includes:
Personal transactions over a period of several months.
Personal and business tax returns.
ABN and GST registration documentation.
A letter from your accountant explaining in detail your financial capabilities.
At least a 20 per cent deposit.
Finding the right self-employed home loan
As each lender has different requirements, it's worth talking to a mortgage broker before you start making applications. Brokers know which lenders are more lenient, or have a flexible approach. They'll stop you applying to lenders who'll definitely turn you down, ensuring your time and energy is focused on lenders who can really help you.
To get your property plans underway, contact Redrock today to speak to one of our highly qualified brokers.