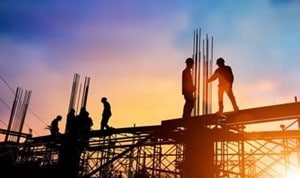 With a construction loan, you can build the type of house that suits your needs as well as easily manage the amount you are borrowing. Building a new home as opposed to purchasing an existing property might seem like an overwhelming task to take on. But it doesn't have to be. Most importantly, you don't have to tackle it alone. Financial support is available to you to help not only simplify the process, but also lighten your load.  So how do these types of loans work? Let's check it out.
Flexibility through construction loans
Construction loans are suitable for both full document and low document loan types. Additionally, they are designed to accommodate a range of new build sizes, from single dwelling homes to investment properties to dual occupancy townhouses or villas.
These loans are also flexible and tailored to your situation, operating on a progressive draw down basis. This means you draw against the loan as needed to meet your ongoing construction payments throughout the progress of the build, as opposed to borrowing a lump sum that you will be responsible for.
However, this doesn't mean your construction loan is open ended and you can borrow an endless amount (nor would you want that type of situation anyway). Rather, you would work with a development finance professional to nail down the details and amounts, such as the value of the property once construction is completed.
How does a construction loan differ from a standard loan?
A construction loan offers flexibility. As previously mentioned, you will be borrowing against the loan on a progressive basis based on the construction progress. This is different than a standard loan, which comes in a lump sum.
Additionally, this type of loan will change the way interest is accrued and paid back as well. During the construction process, construction loans remain interest only. Upon time of completion, the loan will then revert to a standard home or investment loan.
However, interest will only be applied to the amount you actually drew from the loan. So even if you were approved for a $300,000 construction loan, but only ended up using $200,000 of it, then your interest is limited to that $200,000.
There are additional nuances to be aware of when it comes to taking out a construction loan, but the Redrock specialist lending managers are here to help navigate through the process and find something that works for you.
To learn more about construction loans and how they can benefit you, reach out today.