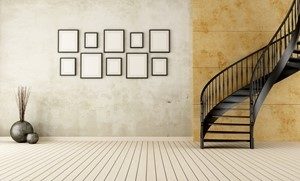 Buying either a single-storey or double-storey home is an important consideration that you have to take into account when moving house. When you're making the change with a low doc home loan, either because you don't have the required documentation for traditional lenders, or you have an irregular income, then you want to make sure you're doing the right thing.
There are advantages to both styles of houses, and depending on your family and life stage, one will jump out more than the other.
What one suits you best, and how will you go about getting into it?
The advantages of living without stairs
While your property might still include the odd step here and there, living in a one-storey home that doesn't have a major staircase to get upstairs means that you don't have to risk an injury. While staircases nowadays are required to have railings to hold onto, retirees that are no longer comfortable going up an entire flight of stairs, for example, will want to live in a single-storey home.
The same goes for parents with young children – if you turn your back on them upstairs for even a few seconds, they could have scurried off and taken a tumble down the stairs. Kids are pretty resilient and unlikely to seriously injure themselves during a small fall, but you don't want to have to deal with a broken arm or wrist!
Making the most of two storeys
According to a realestate.com.au report from December 2015, the average block size in Australia is between 200 and 350 square metres. In order to make the most out of that, homes built up and not out will have more floor space.
Depending on the house, you might choose to make upstairs a quiet retreat with a television and comfy couches, or even an office. Bedrooms could also be upstairs, so making it a quiet zone is a great idea for a healthy sleep.
Downstairs, you might have the kitchen and main living area, as well as the laundry. These aren't places you can usually relax in with a small family, because they're always going to be busy. It's great to have a separate space for them, and if you can retreat upstairs into a quiet part of the home, you'll appreciate the busy downstairs area even more.
Get in touch with Redrock today to talk about what sort of home would be best for you.