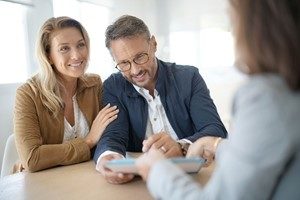 Anyone who's finally making the decision to seek out and purchase a dream home shouldn't let a poor credit score stand in their way. Unfortunately, many Australian consumers do have a low credit score, and who think this hinders their ability to get a home loan.
A borrower who has a low credit score does have options. One is to pursue a low credit mortgage. There's no single minimum credit score limit for this option, as lenders will take into account a variety of factors, both financially and professionally, with each borrower's situation being unique from another.
However, a "bad" credit score will typically fall in a range of 400 to 500 out of a potential 1,200. Anything below 400 is considered "very bad" and means that borrower is at risk of missing payments or defaulting. While consumers who have credit scores in this range won't have an easy time obtaining a traditional mortgage, there are options in the form of a bad credit score mortgage.
What's a bad credit mortgage?
A bad credit home loan is a financial instrument designed specifically for consumers who don't quite meet the threshold for a standard home mortgage. These types of mortgages are also known as a non-conforming or a sub-prime loan.
More often than not, some difficult situation contributed to lowering someone's credit history, sometimes at no fault of the individual. This could be an injury, a divorce, a loss of job, or even identity theft.
Without the opportunity to acquire credit or loans, it can be even more difficult for a consumer to show they're fiscally responsible. By receiving a bad credit mortgage and then making regular on-time payments, borrowers with poor credit can even boost their credit scores over time.
A bad credit home loan can be just the ticket for potential homebuyers who have low credit scores. These financial instruments are essentially the same as a regular home loan. You make a down payment, obtain a mortgage, and then make regular repayments on the loan's principal and interest.
There are a few differences though. Low credit scores mean that a consumer has had some financial problems in the past. This can be anything from late payments on a credit card, a credit default, bankruptcy, or more. Since lenders use a potential borrower's current credit score, any black marks a lender finds on a credit history report indicate the borrower is at a higher risk of missing a payment or defaulting on the mortgage.
But just because a potential homebuyer has a poor credit score, that doesn't immediately disqualify them for a mortgage. Lenders still want to ensure that people can achieve homeownership, even despite a bad credit history. This is where a bad credit home loan comes in.
Some of the typical features of a bad credit home loan include:
Lower loan-to-value ratio: The LVR determines how much of a deposit you'll need as a down  payment for a mortgage. A bad credit home loan means borrowers will need to make a deposit larger than the typical 20% of the home's value.
Higher fees: A variety of up-front and on-going fees accompany any sort of mortgage, but a bad credit home loan will typically have even higher fees than normal. This may cover application fees, valuation fees, conveyancing fees, or even legal fees.
Higher interest rate: In addition to having to pay larger fees, borrowers with poor credit scores may also have to incur larger interest rates.
Granted, these features might sound discouraging for borrowers with low credit scores. But it's important to keep in mind how the industry works and the potential for risks that lenders need to consider when they assess a loan application for low-credit borrowers.
Who's in need of a bad credit mortgage?
While the introduction of the new Comprehensive Credit Reporting system has already started benefiting people, many consumers still struggle with low credit scores and other financial burdens. As noted by the Royal Bank of Australia, housing loan arrears rates have gone up. This illustrates the struggles many people face across the country, despite low unemployment, improvements to lending standards, and low interest rates.
These stresses bear out in other forms too, as 27% of Australians are concerned about the amount of debt they're carrying, with Millennials especially worried at 35%, according to Equifax. Too much debt can potentially hinder someone from obtaining a traditional home mortgage.
This concern is further highlighted in the Equifax data. In 2018, Australian consumers on average had credit score of 820 out of a possible 1200. This is typically falls in the 'very good' range of credit scores. But, broken by demographics, the numbers tell a different story. While Baby Boomers and the Silent Generation each have average credit scores of 888 and 904 respectively, and Gen Xers rest right at the national average, the average Millennial consumer sits far below at 731.
That means Millennials are most in need of bad credit mortgages.
When to consider a bad credit mortgage
An inadequate understanding of their current fiscal situation and good financial habits is one of the things holding back many Australians from buying new homes. Equifax noted that 47% of surveyed people between the ages of 18-24 have trouble fully grasping money management, with 26% admitting to spending beyond their means.
With all this uncertainty and poor spending habits, it's especially important for this age group to take time to get a better understanding of fiscal responsibility if they want to buy a home.
Based on this, the first question for those interested in purchasing property should be: "What's my credit score?"
Having this knowledge in hand will allow potential borrowers the ability to figure out the next step and determine whether a bad credit mortgage will be necessary.
A credit score hovering around 550-600 might be good enough for a traditional mortgage. Although borrowers might want to take a look at their credit history to clear up any black marks and try to lift it a little higher.Those with a credit score falling in the 450-550 should start thinking about a bad credit mortgage.
Thankfully, there are ways to plan ahead and not only utilise a bad credit mortgage, but also fix a credit score.
Borrowers who fall in the low credit range should also take time to meet with a mortgage broker. These financial specialists understand the nuances involved in obtaining a low credit loan, and they'll work hard to find the mortgage that best suits the financial interests of the borrower.
Contact Redrock today for more information.