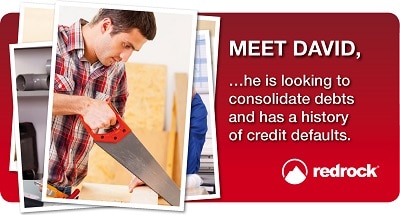 Profile
Age – 35
Occupation – Self Employed Carpenter, ABN for last 5 yrs.
Income – Averaging $1,800 per week
Assets – $460K Home; $25K Ute; $12K Tools of Trade
Liabilities – $220K Mortgage; $15K Car Loan; $20K Personal Loan; $25K Credit Card; $20K Credit Card; $10K Credit Card; $10K Store Card; $5K Interest Free Card
Credit Impairment –$15K credit default registered 2010 (unpaid); $2500 Utilities default registered 2011 (unpaid), $1170 court judgment registered 2009, $800 Telco default registered 2013. Discharged Part IX in 2012, entered 2011.
Background
David went through a divorce in 2010, he has taken over all marital debts and in addition he has accumulated a $20K personal loan which was used to pay legal fees when the divorce was finalised. David entered into a part IX payment arrangement with his creditors in March 2010 as a result of financial and emotional turmoil surrounding his divorce. He has since been discharged from the payment arrangement in March 2011.
Solution
David will qualify for a low doc loan as all his credit defaults and Part IX payment arrangements were entered into more than 3 yrs ago. The product ignores telco defaults < $1000. Our loan products do not credit score and do not have a limit on the number of debts that can be consolidated. David will need to declared his income from his self employed business activities and provide either 6 months business bank statements OR 6 months BAS OR his accountant may complete the Accountants Letter template we provide.