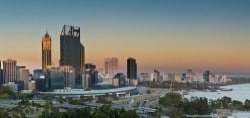 Australian consumers aren't the only ones that may struggle to build up their credit.
According to a December media statement from Treasurer Troy Buswell, the government of Western Australia is looking to restore its AAA credit rating through asset sales.
"The combined effect of reduced expenditure – both in recurrent and asset investment- increased revenue, including from asset sales and a reduction in borrowings and borrowing costs, would deliver savings of $8.6 billion over the next four years," Mr Buswell said.
"Our number one priority is to return the state to AAA status and that will mean constant evaluation of programs and projects to deliver better value for money to taxpayers."
These include the potential sales of the Utah Point common-user berth at Port Hedland, the Kwinana Bulk Terminal and the Kaleeya hospital site in Perth, according to a December 18 report from The Australian.
There are also plans to defer planned infrastructure projects, including the MAX lightrail in Perth.
However, for most Australians, selling off million-dollar assets isn't an option.
For consumers seeking home finance with less than perfect credit, the best alternative may be exploring options related to bad credit homeloans.
Obtaining bad credit mortgages
Bad credit home loans are specifically designed to assist property buyers with poor credit. These may be suitable for borrowers dealing with paid or unpaid defaults or judgements, , bankruptcy history and minimal deposit bases.
By working with the right specialists, bad credit borrowers can analyse their credit histories and discuss options for improving credit and making obtaining a home loan easier.
If you're in the market for a bad credit home loan, contact the specialists at Redrock.