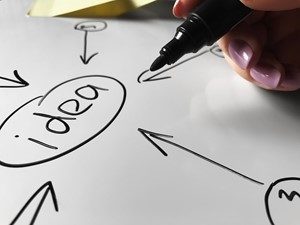 Creating your strategic plan forces you to look at what you aim to achieve in your new mortgage broker business, and the steps you need to take to get there. It should be something you can refer to regularly to keep your decision making on track. It's therefore important that your strategic plan is put together with realistic goals in mind, and solid data about your true financial capabilities.
Here are three steps to take when building your mortgage broker business strategic plan.
1) Decide what you want to achieve with your mortgage broker business
Before you can create a strategic plan, you need to have a clear idea of the end goal. Is your aim to earn a six-figure salary, or is it to grow your business enough that you can work part time? Your tactics will be very different if it's about getting a large number of clients on board quickly to increase revenue, versus scaling back the brokerage services you offer in order to spend more time supporting your family.
As you progress through your strategic plan, every section needs to support your overall business goals. So there's little point in beginning the planning process before you're clear on what objective each step is supporting.
2) Realistically assess your resources, strengths and weaknesses
This assessment is what's called a SWOT analysis – looking at your strengths, weaknesses, opportunities and threats. A key part of preparing your strategic plan is to realistically assess where your strengths and weaknesses are, and what resources you have available. There is no point writing an ambitious strategic plan that doesn't take into account your financial resource, and commits you to spending more than you can afford.
Get your documents in order and be honest about how much money you have to play with both now, and over the coming years. Next, look at what skills you already have within the business, and where you weaknesses lie so you can be realistic about what you can achieve on your own, and what you'll need to pay for or resource elsewhere.
A great example of this is marketing your mortgage broker business. Know before you begin whether your marketing budget can really stretch to ads in glossy magazines, or whether you need to investigate other avenues, like social media. Alongside this, do you have the skills to run a successful social media campaign, or do you need to invest time and money into making this a reality?
3) Look to the future of mortgage lending services
You can't be expected to know exactly what will happen in the future, but you do need to consider what might happen and how you'll remain successful. When thinking ahead, it's crucial that you look both internally and externally. Take into account any likely changes to your personal life, as well how future government decisions or changes in the banking sector may effect you.
Also consider whether you intend to employ others to work with you, or to team up with another business, such as with a real estate agent or mortgage banker. What skills will they or should they bring to support your loan services? Will there be any financial obligation you'll need to keep in mind?
Many new mortgage broker businesses are working on their own. It's a great idea to team up with someone more experienced who can act as a mentor as you grow your business. At Redrock, we connect all of our new brokers with a more experienced member of our network. Take a look at our franchise opportunity today and let us help you achieve your business goals.