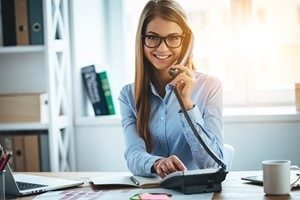 Are you looking for a new career but not sure where to start? Or do you already know that you're interested in being a mortgage broker? Either way, it's not just about understanding mortgages and being able to work out monthly repayments. Becoming a mortgage broker requires a raft of skills to ensure you attract, retain and satisfy clients as well as lenders.
Understanding what skills you already have that are relevant to broking will help you determine whether it's the right career choice for you.
What skills are useful for a career in mortgage broking?
1) Working with numbers
While there's lots more to being a broker than being able to do some calculations, you do need solid number skills to ensure you're getting the customer the best deal. You need to be able to confidently calculate a borrower's financial situation, what repayments they can afford and what the loan interest equates to.
Outside of loan-related calculations, a mortgage broker working for themselves needs to be confident in running their own business. Being able to track income, understand tax returns as well deduct current and future outgoings requires confident number skills.
2) Good communication skills
The role of a mortgage broker exists to bridge the gap between lenders and consumers. It can be difficult for borrowers to understand the complex terminology that surrounds mortgages and to cut through it to assess which offer best suits their needs. A broker's role, therefore, is to communicate the details around each loan and explain how the financial world works in plain and simple terms. Applying for a loan can be stressful so your role is to make the process as straightforward as possible.
You'll need to communicate with your clients in a number of ways: over the phone, via email as well as in person. Strong skills across various communication methods put you in a great position to consider a career as a mortgage broker.
3) Detail-oriented and organised
To keep your business turning a profit, you will need to balance the needs of multiple clients at once. Your customers will be at different stages in their loan application and it's crucial that you don't miss a beat. It's your job to make sure that the borrowers and lenders are submitting the right information at the correct time. If you lose track of what's happening, a deadline could be missed.
Experience in multi-tasking or managing multiple projects will stand you in good stead as a mortgage broker. You can apply your time management skills not only to ensuring everyone is on schedule, but for splitting your time appropriately. Part of your role will be liaising with lenders to get favourable deals, finding new clients, dealing with existing clients as well as day-to-day running of the business. You may need to juggle all of these things in one day, so organisational expertise is essential.
4) An understanding of sales and marketing
It's not as simple as sitting in an office and dealing with a pile of loan applications when you work for yourself. You need to make potential customers aware of your business and convince them that you are the broker to help them get the mortgage that's best for them.
A sales and marketing background gives you a strong advantage in the world of mortgage broking. You'll already be a good communicator, you'll understand marketing strategies and tactics that help you reach your target audience and you'll know how close the deal.
5) Confident about making decisions
As a mortgage broker, you'll likely be working for yourself. This means you'll need to enjoy and feel confident about managing your own workload and taking full responsibility for it. Unless you go down the route of employing a team to help you, it'll be down to you to double check your work and manage every single aspect of your business. Marketing decisions will rest with you, as will closing deals and making sure utility bills are paid on time.
For someone used to being in charge and who enjoys the autonomy of making your own decisions, being a mortgage broker could be a very satisfying career move. If you prefer to be able to make a decision without going through other people or submitting proposals, you'll enjoy the ability to get on with the job at hand.
Of course, if you want to expand your team to take on more clients, you can always employ staff but maintain a managerial role across all areas of the business – keeping decision-making a key part of your role.
At Redrock Group, we offer support, professional training and access to a wide range of lenders. Talk to us today to find out how you can get your mortgage broker career started.