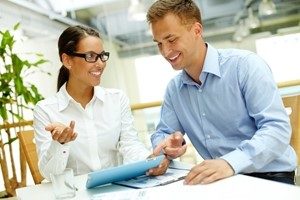 Communicative competence is an absolutely essential skill for those dealing with clients on a daily basis. Simply put, this concept focuses on the three E's of language use: effectiveness, empathy and education. These are skills you will put to good use when you become a mortgage broker.
Effectiveness: How to communicate meaning appropriate to each mortgage client
Effectiveness refers to whether your client has understood your intended meaning, while appropriateness is context bound. Is the language you are using suitable for a business meeting? Perhaps the easiest way to ensure you are communicating clearly is to maintain a level of self-awareness in your client interactions.
This awareness will ensure conversations that are both effective and appropriate. Of course, not all customers are the same, and as such you need to be ready to adapt. Establishing common ground through your language use through borrowing from your customer's phrasing or terminology is a great way to ensure you are on the same page. You can build a similar rapport with a 30-year-old tradesman as you would with a 60-year-old clergyman, but you might not use the same language to do so.
Empathy: Clients more likely to respond to a broker who understands their needs
Empathy is also a useful tool in business relationships – understanding where your client is coming from and what their motivations are will lead to a better outcome for both of you. In academic discussion of communicative competence, linguists often refer to cognitive complexity – an idea which acknowledges how external factors like mood and physical health might affect how people communicate. If you can glean an idea of how your client is feeling, it will be far easier to effectively converse with them.
Education: A broker's knowledge of mortgages is useful in more ways than one
It would be quite easy to assume that by the time a client is ready to sit down with you and look at their financing options, they already have a solid understanding of finance jargon. Some clients will! This won't always be the case, so you should also be prepared to explain your terminology. As an industry expert, clients are relying on your knowledge to move forward with their investment goals. In addition to finding the best mortgage for their needs, you might need to explain why it's the best option, and you may also be required to use simpler language to do so.
If you have the people skills to become a mortgage broker then get in contact with Redrock today.