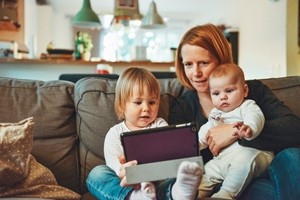 It's not always easy to slot straight back into your old job when you've got different priorities at home. Mortgage broking is a great option for Mums returning to the workforce because you can fit the hours you work around your family. In fact, 'family reasons' are the second-most cited cause of women leaving their existing jobs, so finding a career that works around your new life is essential for long-term success.
Here's why a mortgage broking career is great for Mums.
Using a mortgage broker career to go back to work
Your hours are flexible
Probably the biggest reason mortgage broking works so well around family life is that the hours are flexible. As a mortgage broker, you take on as many clients as you want to, and therefore tailor your earnings to the time you want to devote.
If you want to spend time with your son or daughter during the day, you can work part-time. Meanwhile, if you simply need flexibility around being able to take your child to school, you can design your hours around what works for your family.
In fact, many of your clients will be happy to have you available after hours, when they've finished work. So, adjusting your hours to include evening work is often a great business idea as well as something that works with your home schedule.
Training is at your own pace
While every mortgage broker in Australia has to complete the Certificate IV in Mortgage and Finance Broking before they start lending, how you do so is up to you. A number of institutions around the country offer this course, and you can choose to attend in person or do distance learning.
This means that if your little one is still at home, you can train from the comfort of your own house. However, if they're at school or in care, you can attend a course in person and get it finished as soon as possible.
There's also lots of flexibility around how long you take to complete your training, from a few weeks to a few months. It really fits in with your schedule.
You can use your existing skills
Being a mortgage broker isn't just about financial knowledge. You'll be dealing with people for much of your day, so good communication skills are essential. Not all of your clients will understand how the mortgage industry works and you'll need to break it down to them. You also need solid organisation and time management skills to help you juggle your clients and negotiate rates with lenders.
Any sales or marketing experience you have will come in handy when you want to start building your customer base and attracting new business.
Mentoring is part of the package
Learning a new career can be tricky at any time, but especially if you need to hit the ground running so you can care for your kids at the same time. Unlike in many careers, new mortgage brokers receive mentoring from more experienced colleagues as part of the package. This means you're not alone in trying to work out how to run your new business venture, and instead get plenty of tips and short cuts to help you be more productive more quickly.
They'll help you become familiar with the tools you use every day, suggest some best practices you might adopt and answer your adhoc questions as they pop up.
Advancing your career with Redrock group
Redrock brokers group is a huge network of qualified and practising professionals. As well as helping you train up, we provide all the software and tools you'll need to do the job, and offer a number of support packages. You can choose to attend our CPD days and network within our group, as well as receive client leads from us if sales isn't something you have time for.
Request an information pack today to get your broker journey started.