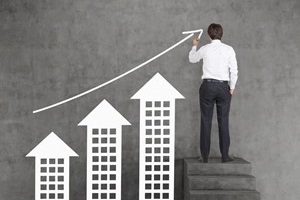 Becoming a mortgage broker is a particularly viable career option if you have a market that continually shows growth and expansion. That's precisely what the current property sector is showing, and mortgage brokers around the country are set to benefit on the back of the latest release of the Federal Budget on May 3.
There has been a real push for growth around the property industry of late, and that's drawing people towards taking out a home loan. Going through the banks in a conventional mortgage process can be a daunting idea, and many Australians are turning toward brokers in smaller businesses to access the funding they require.
Why should you start your mortgage broker career?
IBISWorld reports that the mortgage broking industry in Australia is worth $2 billion in annual revenue – and that's only with 16,883 employees around the country. It's clearly a market that is yet to be fully realised, but here at Redrock, we're committed to helping you become the best broker you can.
We offer expert mentoring from within the industry, training and all relevant software that will help you to succeed. With a property sector that is going from strength to strength, that's not going to take a long time, either.
"The boost to infrastructure spending, the extension of small business concessions, modest tax cuts and the retention of the current arrangements for taxation of property investments will help ensure that the property sector remains an important driver of economic growth," said Neville Sanders, president of the Real Estate Institute of Australia in a 3 May media release.
Jones Lang LaSalle found that there are currently 13,675 new apartments being constructed in Melbourne alone, to be completed by 2020. A further 10,349 are currently being marketed for sale, and that means people will be needing access to funding. Will you be available as a mortgage broker to help them out in this growing industry? Talk to Redrock to find out more.
No items found.