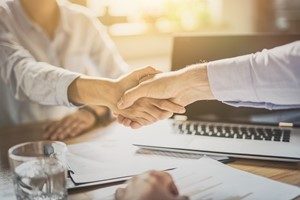 In Australia, mentoring is compulsory for the first two years of a mortgage broker's career. Becoming a mortgage broker comes with plenty of challenges, and having a mentor means you gain their knowledge and experience. While you can pick up technical skills on the job, or from a course or manual, learning from a mentor means you're working with someone who knows exactly what you need to be able to do every day – and what you don't.
What type of skills can you learn from a mortgage broker mentor?
Mortgage broker mentors provide advice on everything from business management and marketing, to understanding loans and how to use the software. In terms of technical skills, they'll be the ones who really help you understand the lender jargon you'll have to get used to, and wrap your head around how different institutions review loan applications. They'll quickly be able to upskill you on what you need to know about the current loan market and how other areas of the real estate industry connect with the broker world.
Beyond broker-specific technical skills, your mentor will know how to get your business set up and registered. They'll also have some tried and tested marketing and sales techniques, as well as some experience in working from home versus having an office base.
Depending on where your mentor is based, you might talk to them over the phone or in person. They may be able to provide access to small group workshops, and they may share their checklists and spreadsheets to help you with managing your clients and your time. If your mentor works within the same broker group as you, they'll also be able to ensure you understand how you should be using branding, templates and other forms of support offered by the network.
How mentoring helps new mortgage brokers improve their technical skills
Real world scenarios
No matter how hard you study the rules and regulations around mortgage broking, it's not until you start trading that you'll start to understand the types of worries and concerns your customers have. However, with a mentor on hand, they can run through some common scenarios and useful solutions so you're prepared for some of the situations you'll be facing early in your career.
Compliance advice
There are a lot of regulations around mortgage broking, and for good reason. It's crucial you're properly registered and stay abreast of industry updates. A mentor will help you work out how to stay on top of compliance, use your systems to your advantage and organise the necessary professional development you'll need to undertake throughout your career.
Intricacies of different lenders
As your customers will be well aware, no two lenders work in quite the same way. It takes a long time to learn and remember the intricacies of every possible lender on your books. However, your mentor will already know how many of the lenders work and can help you categorise them according to the types of loans they offer or how they score their applicants.
Shared networks and resources
An experienced mentor will have plenty of tactics for streamlining your workflow, and will know what types of resources make the job as straightforward as possible. They'll also know other brokers in your area and help you create a network.
Encouragement and strategy
Not a technical skill in itself, but it's encouragement that'll keep you going when you hit your first few challenges. Whether it's to do with running a business or writing loan applications, you're bound to have difficulties at some point and it's your mentor who'll remind you of all the technical skills you've learnt so far, and that you're capable of learning many more.
If you're about to join the world of mortgage brokers, or are looking for a mentor to help you improve your existing business, request a Redrock information pack today.