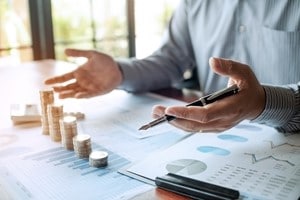 Embarking on a new career as a mortgage broker can be an exciting, nerve-wracking endeavour. You're likely trying to learn all you can about the field, ideally before you begin to learn new skills and build your network. First things first: How much is a mortgage broker's salary? There are a few variables to consider. Here's a guide to help you learn what you can expect out of a career as a mortgage broker.
The hard numbers
There's good news for those new to the job market or those looking to switch careers and earn more money: Indeed reports mortgage brokers earn an average of $79,184 per year, while senior mortgage brokers can expect to make $91,999 each year. Nuevoo reports senior mortgage brokers can make as much as $170,000 each year.
That means you can expect room for growth in the industry, rather than stagnating in pay after your first year in the field.
The variables
As in most fields, there are some variables that will affect just how much you can make over the course of your career. Much relies on what you do during the first few years of your career. Part-time brokers should, of course, expect to make less, but that is a more viable option once you're further along in your career.
During the first couple of years you'll have to build a client base, gain a positive word-of-mouth reputation and put in more hours. As many clients don't have availability to meet or speak during regular work hours, you may have to make yourself available on evenings or weekends. You'll also have to work during regular banking hours since you'll be working with financial institutions to complete the mortgage process. If you make yourself available during regular hours as well as some off-hours, you'll be likely to earn more over time.
Once you've done so, you can feel free to switch to part-time work or set more stable business hours. If you put in the hardest work early on, you can make your way up in the industry more quickly, creating the likelihood you'll make more over time.
If you find that intimidating, don't forget there is some flexibility to becoming a mortgage broker. You don't have to dedicate every waking moment to your business, as there is room to establish yourself as a mortgage broker without burning out, taking a slower, steadier pace along the way. Over the years, you may just find yourself growing your business, establishing a strong reputation, and increasing your income.
Request an information pack today on how to become a mortgage broker.