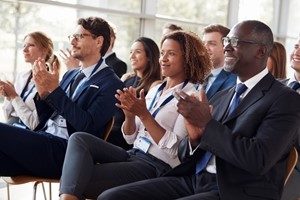 The career path to becoming a mortgage broker involves a mixture of study and experience. As well as a certificate in mortgage broking, you're required to work closely with a mentor to build your knowledge and experience.
However, there's no need to have a particular background, such as real estate or banking. Anyone can become a mortgage broker if they're willing to dedicate the time and effort required to learn the relevant skills.
Qualifications required as a mortgage broker
All mortgage brokers in Australia must complete the Certificate IV in Finance and Mortgage Broking before they can begin working with lenders. The certificate covers key details such as lending regulations, ethical considerations and the loan approval process.
Once you have the Certificate IV under your belt, you can access the Diploma in Finance and Mortgage Broking. This qualification is optional, but comes highly recommended by most brokers and helps you market your professional services. The diploma covers more detail around the principles of broking, and breaks down the processes involved.
Both qualifications are available through a range of institutions, many of which offer the option of studying online.
Following qualification, there are a couple more steps you must take before embarking on your career as a mortgage broker. Before you can begin providing mortgage lending advice, you must be licensed to do so. If you intend to self-operate, you'll need to apply for an Australian Credit Licence from the Australian Securities and Investments Commission (ASIC), otherwise this is often provided for you as a member of an aggregator or franchise group.
Finally, you must join a professional mortgage broker group that can provide an experienced mentor for the first two years of your career. Typically, a broker group also provides access to a range of lenders, commission models and ongoing training opportunities.
Career progression for mortgage brokers
Passing the certificate is just the beginning of your career as a mortgage broker. A high standard of continuing professional development is expected in the mortgage broker industry and there are a number of ways you access ongoing training and career prospects.
Make the most of your mentor contacts
Although you're required to have a professional mentor during the early days of your practice, you can benefit from someone else's experience at any stage. Building a network of contacts means you can talk about what's worked for them over the years, as well as find information on common pitfalls to avoid.
Attend broker network training days
Joining a broker network means you'll get access to their professional development days. Rather than having to keep on top of regulatory changes, marketing trends or business tips yourself, a broker network ensures you're always up-to-date. They'll often have access to industry experts and training providers you wouldn't be able to reach out to alone.
Build your business with a franchise provider
Part of your broker career development might be gaining enough knowledge and experience to start your own broker firm. Joining a broker franchise is great starting point as you continue to get invaluable business support, while also being your own boss, free to build a team of staff around you and choose your location.
Develop soft skills for business success
Broker knowledge is crucial, but so is the ability to communicate with consumers, market your business and negotiate with lenders. Some brokers embark upon training in these areas, or work with other local experts to upskill. Especially in areas like marketing, tactics are continually evolving, so it pays to have the support of someone who knows what they're doing.
For a solid start to your mortgage broking career consider the Redrock Broker group. We'll help you organise relevant qualifications and insurance and also offer professional development days as well as an extensive mentor network available throughout your Redrock career. Request an information pack to get your mortgage broker career started today.