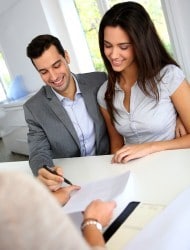 Recent data from the financial sector highlights just how important mortgage broker careers are to consumers.   A December 10 report from Roy Morgan Research showed that nearly 1.6 million Australians aged 14 and over were considering taking up a new banking product in the next six months.
Of this number, the majority (575,000) were considering obtaining a mortgage.
Unfortunately, a high proportion of potential borrowers reduced their chances to find a loan solution that suits their needs best by stringently sticking to certain parameters.
For instance, more than three quarters of potential borrowers were only considering going through a bank. This is a striking difference when compared to the less than 10 per cent of potential borrowers who were only considering going through a non-bank lender, such as a building society, credit union or specialist provider.
Additionally, very few people considered a combination of both a bank and non-bank lender.
Of those looking to take out a home loan, more than half were only willing to consider one bank.
While there are many explanations for this type of behaviour, from comfortability with a financial institution to feeling overwhelmed at the prospect of comparing loan products from different banks, it makes one thing perfectly clear: Many Australians are doing themselves a disservice by not employing the professional help of a mortgage broker.
Not only can brokers help borrowers compare and contrast different loan products, assisting them in finding the mortgage that best suits their needs, they can also open them up to different loan sources that they may otherwise not have access to.
In this way, brokers do borrowers a great service, and if this recent data is any indication, it's more important than ever for mortgage professionals to provide their services.
Contact Redrock Group to find out more about how to build and grow your business by becoming a professional member.