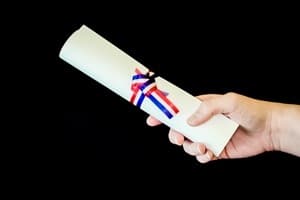 Thinking of embarking on a new career path toward becoming a mortgage broker? If so, then you have likely been made aware of the high earning potential, or perhaps you are interested in the flexibility that being a mortgage broker provides.
It is certainly a field that caters to those who are looking to work non-traditional hours, or even part-time. But even if you are thinking of being a part-time mortgage broker and seeking the flexibility that comes with the role, there are still the same considerations that come along with doing it full time. For example, have you considered the qualifications or licenses that come before being a fully-fledged broker?
Qualifications and licenses
If you are looking to become a mortgage broker in Australia, you will need a Certificate IV in Finance and Mortgage Broking. So what does this certificate entail? Check it out.
A Certificate IV provides you with specialised skills and knowledge, giving you the ability to provide advice to your future clients and preparing you for both predictable and unpredictable problems. The course curriculum for this certificate is developed by the industry, so the skills you will be developing will not only be applicable to your future work with clients, but also valuable to employers.
Additionally, the qualifications that you are required to meet on your way to earning your certificate do not have to be completed in a specific sequential order. This means you have the freedom to dive in at the qualification level that you feel most identifies with your career goals and aligns with your previous experience.
Aside from the Certificate IV in Finance and Mortgage Broking, you might want to consider a Diploma in Finance and Mortgage Broking Management. While it is not a requirement for licensing, it is looked favourably upon by many lenders and organisations within the industry. If these established bodies see that you have this diploma, or at least that you are in the process of working toward it, you will have an advantage over those who do not.
Finally, you will need to apply for an Australian Credit License (ACL) or become a credit representative of an ACL.
Work that pays off
Don't let the list of necessary steps turn you away. Being a mortgage broker can be a rewarding and flexible profession. For more information on becoming a mortgage broker, request an information pack today.