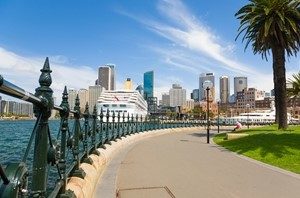 The latest release from the Australian Property Monitors (APM) has highlighted the strength of the nation's capital city real estate values, which have been steadily increasing over the last quarter. In fact, the national median house price rose by 1.9 per cent over the three-month period, while the median unit price jumped a huge 2.5 per cent over the same time.
With the strengthening market, now could be  the time to secure property ahead of future growth. As a mortgage broker, brushing up on your skills and training could come in handy as people start investigating the financial options open to them.
Naturally, the Sydney market boasted the strongest results, with the median house price rising by a huge 3.1 per cent and reaching a new record value of $811,837. Furthermore, unit prices rose by 3.9 per cent, bumping the New South Wales capital city's property market up to dizzying heights.
APM Senior Economist Dr Andrew Wilson said that over the 2014 financial year, Sydney's median house price increased by 17 per cent – or just under $118,000.
"Sydney, Melbourne and Perth have led the market over the past year, however, annual outcomes for these cities is likely to be around half of the exceptional 2013 results," said Mr Wilson in a July 24 statement.
"Brisbane, Adelaide and Hobart are seeing confidence return to their local markets and are set to record stronger house price growth in 2014 compared to 2013. Darwin and Canberra remain the capital city under performers although Darwin's strong economy and underlying shortage of housing will act to re-ignite house prices sooner rather than later."
With these markets expected to remain strong and population growth projected, mortgage brokers should begin preparing for the upcoming months.