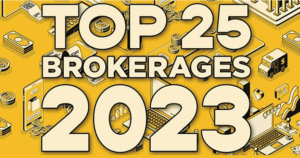 Redrock Group has again been named as one of the top brokerages in Australia after securing a coveted place in the Adviser's Top 25 Brokerages 2023 ranking.
The Top 25 Brokerages ranking, partnered by NAB, has been revealed in the February 2023 edition of The Adviser magazine, Australia's top publication for mortgage and finance brokers.
Now in its 14th consecutive year, the Top 25 Brokerages ranking shines a light on high-performing brokerages that have consistently achieved high scores and set the benchmark for excellence for the rest of the industry.
The ranking took into consideration key business metrics and overall productivity. The final rankings were determined by scores in key metrics across the 2021–22 financial year (FY22) including:
● Number of loans settled
● Value of loans settled
● Overall loan book size
● Average annual loan book growth
● Total number of brokers
● Broker efficiency
These scores were then added to give a final overall score. The lower the score, the better
the ranking.
Managing Director Andrew Cowan says "We are delighted by our inclusion in the top 25 brokerages in Australia 2023. Our brokerage smashed records yet again this year with a record volume of loans settled in the 2022 financial year".
"The new records are not only a sign of the strength of the broker market but are also testament to the work that has gone into improving our brokerages efficiencies and processes over the last two years"
"Congratulations to all our hardworking broker partners and support staff who have been helping deliver exceptional results for their brokerages, and ultimately for Australian borrowers."
Phil Waugh, executive, broker distribution at NAB, said the major bank was delighted to partner with The Adviser for the Top 25 Brokerages ranking, adding: "In today's dynamic environment, the role of brokers has never been more relevant. High-performing brokerages build strong relationships and deliver exceptional service, while cutting complexity and helping customers to navigate market changes.
On behalf of NAB, I would like to congratulate the brokerages recognised this year for leading the way in supporting customers and raising the bar for the industry.