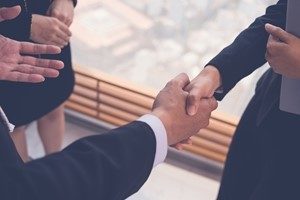 Part of running a successful mortgage broker business is managing the relationships you have with your customers. This becomes much easier when you have effective CRM (customer relationship management) software at your disposal. With a Redrock membership, you'll have access to the Symmetry mortgage software suite, a complete package for mortgage brokers.
So, why is CRM software so valuable for mortgage brokers?
What is CRM software?
CRM software is used by all manner of professionals to record and manage their customer interactions. It functions as both place to keep track of past customer dealings, as well as plan and nurture potential future leads.
The practice of CRM is nothing new; companies have been doing it with pen, paper and rolodexes ever since business and trade began. What's new (relatively speaking) is moving this customer information into a unified software package that allows businesses to more efficiently and effectively take advantage of this information.
The benefits of Symmetry mortgage software
The software package that we provide to our members is called Symmetry and is one of Australia's leading IT solutions for mortgage brokers. Part of why it's so valuable is the fact that it's not only a CRM package – it's a complete software solution for mortgage brokers, integrating CRM alongside loan origination and document production. Lender panel management allows you to see all the options available to you in one place, including important details like products and credit guidelines.
There are also more ancillary functions built in too, such as marketing tools that allow you to mine data, create campaigns and follow up on potential leads.
As an internet-based platform, IT and infrastructure costs are kept to a minimum, which ensure your budget can be allocated to other critical areas.
The Redrock difference
Access to the Symmetry CRM and loan origination software suite is just one of the many benefits that comes with a Redrock group membership. Our top tier commissions give you a number of competitive commission models to choose from, including flat fee or percentage based options. You'll also have access to over 40 lenders, as well as the chance to use your own brand, get top-notch mentoring services and utilise our considerable experience in marketing as a mortgage broker.
For more information on what joining our Brokers group can bring to your career, request a free information pack today.