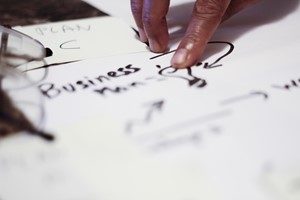 As a mortgage broker, your business model is concerned with how you'll find both clients and lenders, as well as how you'll persuade them to work with you. You'll also be looking at whether you charge the lender on a commission basis, or the borrower on a cost per service model – and how that method ensures you continue to bring in profit every month.
With a mortgage broker franchise opportunity, much of the strain and effort of building relationships with customers and loan providers is done for you with a pre-planned business model.
Franchising as a mortgage broker business model
Mortgage broker franchises are available to individual brokers to help them set up their business without a ready made tool kit. Franchisees can operate a one-man work-from-home business, or offer a shop front with several employees. Some brokers under the franchise model partner with other local businesses, like real estate agents, in order to make it easy for clients to find them.
As with most franchise arrangements, brokers pay a start-up fee and small ongoing subscription to operate under the familiar name of the brand. Depending on the broker business model offered, you may have the option to receive leads from the brand, work with ready-approved lenders and benefit from national and local marketing of your business.
Commission models
Traditionally, mortgage brokers work on a commission model that sees the lender pay them every time they secure a loan with them, and also pay them a trailing commission for the life of the loan. Franchise business models often come with a selection of commission packages. Some packages require a higher upfront payment but then allow the broker to receive 100 per cent of the commission that the lender pays. While other models allow brokers to pay slightly less per month or year, but receive around 80-90 per cent of the commission.
Which model works for each individual broker is largely down to their financial situation and experience in the industry. Brokers who already have a customer base, or are partnering with a local businesses might prefer a pay per transaction approach, while those building their business might want a package that ensures high commissions from day one.
Overheads and other costs
Whatever your franchise agreement, your business model still needs to incorporate expenses you manage, such as rent for an office and your internet connection, as they won't be included in the package. You have the freedom to choose what type of business you own, and how you run it on a day-to-day basis, but this part of your financial planning is down to you.
Should you choose to rent an office space or shop where you can meet with clients, make sure your business accounts for all of outgoings associated with this. Similarly, if you choose to work from home, it may be appropriate to meet your clients at their homes or shared offices, and you'll need to factor in the time this takes and travel costs.
At Redrock, we offer several franchise options to suit brokers at the beginning of their career right through to those with years of experience behind them. Our unique specialist lending focus provides a strong point of difference, and is designed to serve the needs of Australian borrowers today. With our flexible business model and commission structure, you can build a business that suits you, all with the support of a highly experienced team.
Request an information pack now and start your Redrock journey.