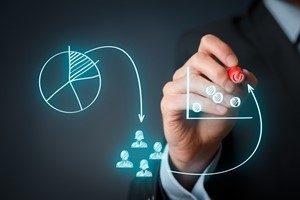 Mortgage brokers have many options available when it comes to choosing how to work. Some brokers work for a specific finance group or real estate agent, while others work for large broker businesses.
Another option is to own a franchise broker business. Working with the support of the umbrella brand, a franchise can provide national brand recognition, client leads, a variety of turnkey business model options and a valuable mentor network.
However, before investing in a broker franchise business, it pays to know what the broker franchise market looks like in 2019.
What does the mortgage broker franchise market look like right now?
The broker industry continued to grow in 2018 to see its largest ever value of residential home loan settlements – an eye-watering $46.1 billion, according to Australian Broker. Brokers also increased their market share to 55.3 per cent of home loans, showing how much borrowers are now relying on broker advice.
Numbers of brokers working under a franchise brand now represents almost 20 per cent of the industry, reports the Mortgage & Finance Association of Australia (MFAA), and many of the most successful brokers work under this model. Sole operators are joining franchises for better training opportunities, and the report also describes the benefits economies of scale afford through franchise networks.
Of course, the broker industry also came under scrutiny in 2018 with the Royal Commission investigation looking closely at broker commission models. That the industry continues to grow despite some negative press further cements how valuable broker franchises are to the consumer.
How to get started with a mortgage broker franchise
Starting your own mortgage broker franchise is an opportunity to build a working lifestyle that suits your needs, all with the support of industry experts. Your franchise can be an at-home one-person business, or a high-street team of brokers – it's up to you.
The first step in managing your own financial business is to find a broker network offering the type of franchise agreement you need. There's normally an upfront investment required in return for varying levels of lender connections, loan software, marketing and general business support. Franchise networks often offer a variety of business models, so you can adopt a strategy that you're confident can work for you.
Before you decide which broker franchise operator you want to work with, it's worth thinking about your existing level of skill and knowledge. If you've got a long career in sales and marketing behind you, industry-specific training days might be amongst the most valuable things a franchise can offer you. Alternatively, should your aim be to reduce your working hours, finding a group that provides a database of lenders and qualified leads might be what makes the difference. Not all mortgage broker franchises offer the same level of support, or commission structure, and it's important you understand what you need most to help you grow a successful business.
The Redrock franchise opportunity
At Redrock we offer a franchise opportunity that works whatever your end business goal. With a variety of commission and business models available, we can help you with every area of broking from qualification to lender relations, national marketing and ongoing professional development – all for a very reasonable upfront investment. Whether you're looking to align your working hours with family life, or grow a six-figure income stream as quickly as possible, we have the knowledge and experience to help.
Request an information pack today to get your broker franchise journey started.