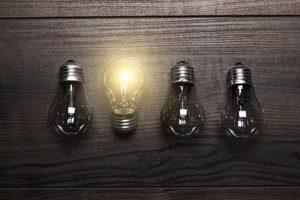 To stand out from the almost 17,000-plus mortgage brokers in Australia, you're going to need a point of difference. Most brokers struggle with this because they try to cater to the same target audience as most of their competitors, and don't provide anything different. Lots of brokers try to offer every type of loan to every type of customer, on the assumption that this is how they'll attract the most business.
What some brokers miss is that finding a niche, and becoming well-known for your ability to offer the best service within it can really generate a successful business.
The difficulty of finding a point of difference in the prime loans market
It's hard to establish a point of difference when you offer the same products as other brokers.
In many industries, businesses differentiate themselves by the types of products they offer. Perhaps they have a better variety, or stock a higher quality of product. For brokers, it's traditionally been more difficult to offer something different.
Lots of brokers are accessing the same lenders, loans and rates as their competitors, often through identical software or the same contacts. It's hard to establish a point of difference when you offer the same products as both other brokers and the lenders themselves. While you can market that you offer better customer service or a quicker turnaround time, it's possible that many of your direct competitors are saying the same thing. The options available to stand out from the crowd are limited.
However, with the introduction of the Royal Commission in December 2017, the prime loans market has tightened its lending criteria. As a result, borrowers who once qualified for a prime loan are finding themselves needing to look elsewhere and for a different type of product. Brokers who still deal solely in the prime loans market are unable to help the new wave of borrowers who now fall into the specialist lending market.
Specialist lending as a point of difference for mortgage brokers
The specialist lending sphere offers loans for borrowers who can't satisfy traditional lenders. These borrowers may not have a good credit score, the right documentation or standard requirements. They're unable to approach traditional lenders directly, and now need a broker who can point them in the right direction.
As a broker, the specialist lending market is an opportunity to offer different products, to an audience who are no longer the same as those your competitors are dealing with. With specialist lending products on your books, you can carve out a point of difference by helping people who are being turned away by traditional lenders.
The specialist lending market is an opportunity to offer different products.
You can offer your services to those new to Australia and without a credit history. This includes those who want to buy their first home here, or the hardworking local businessman who doesn't have acceptable documentation because he's self-employed.
Specialist lending assesses each borrower individually, looking at their unique circumstances and history to understand the type of loan they're most suited to. There is no credit scoring, and alternative or low-document applications are always considered.
Redrock offer an opportunity to become part of a nationwide network specialising in this lucrative market. We provide access to a range of lenders, as well the technology, training and support you need. Request an information pack now and consider your potential as a specialist lending mortgage broker.