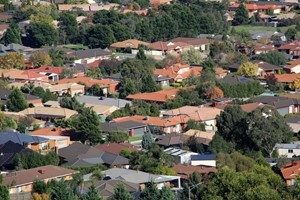 Have you been thinking about a change of career for a while? Now's as good a time as any – particularly in the New Year. A new career might have been on the horizon, and you decided to make it a New Year's resolution. Well, becoming a mortgage broker will check that box, and put you in an exciting and growing industry.
People need homes to live in, and when there are more people in the country, there's a greater need for new homes. At the moment, there are over 24.1 million people living in Australia, according to a Housing Industry Association (HIA) media release from 16 December 2016.
"Overall, Australia's population increased by 1.4 per cent over the year ending June 2016," said HIA Economist Geordan Murray.
Some rent and some invest, but many like to buy and live in the homes as owner-occupiers. These people tend to need a home loan to buy, because they can't purchase outright with their savings. That's where you'd come in as a mortgage broker.
Why are mortgage brokers in high demand right now?
With 24.1 million people in Australia – an increase of 337,800 people to the end of the 2015-16 financial year – there are a lot of new families, couples and individuals looking at getting into their own places. Many of them will need help paying for these properties, and will turn to their local mortgage broker. That could be you.
There are currently 5,850 mortgage brokers around Australia, according to IBISWorld, which means you'll need to differentiate yourself from the rest. When you train with Redrock, you'll set yourself up for a solid career. We provide an experienced mentor to guide you through every step of the process, after you go through the training, so you'll be firmly on your feet by the time you go out on your own.
As a Redrock Broker-trained home loan provider, you'll be shown the ropes, directed toward the correct accreditation and qualifications, and given real-world experience with genuine customers. Starting a new career is always a challenge, but with the support we give you, you'll know exactly what to do at every stage.
Think you have what it takes to be a mortgage broker in a competitive environment, and run your own business? Talk to Redrock today and get the ball rolling to take advantage of the growing Australian population.