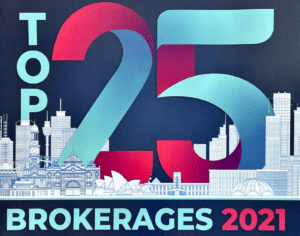 Redrock Group has been named as one of the top brokerages in Australia, securing 14th place in The Adviser's Top 25 Brokerages ranking for 2021.
The Top 25 Brokerages ranking was revealed in the February 2021 edition of The Adviser, Australia's top publication for Australian mortgage and finance brokers.
"We are thrilled to have been recognised again as one of the country's top brokerages for 2021",  said Managing Director, Andrew Cowan.
The Top 25 Brokerages ranking is based on figures from the 2020 financial year.  Each brokerage was asked to provide several business metrics from 2020, including volumes, number of loans written, years in business, overall book size, number of brokers, number of support staff and more.
The final ranking was then determined by scores in six key areas: total book size, total loans selected in 2020, total volume of loans settled in 2020, book size versus years in business, total number of brokers and average broker volumes for 2020 (i.e. volume numbers divided by actual number of brokers).
Each of the brokerages that entered was given a ranking score in each category from 1 to 25 (1 being the best). The six scores were then added to give a final overall score. The lower the score, the better the ranking.
Annie Kane, editor of The Adviser, said, "Each year, The Adviser's Top 25 Brokerages benchmark ranking celebrates the success of Australia's top brokerages. "This year, the ranking demonstrated just how busy brokers had been helping their clients during COVID-19 and over the 2020 financial year – with the number and volume of loans written having grown substantially.
"In FY20, the Top 25 brokerages wrote a whopping 126,087 loans totalling nearly $51 billion! That was up from 117,888 loans totalling $45.6 billion in FY19. "Broker productivity numbers were also incredibly high this year, with loan writers increasingly taking on a growing amount of business to help Australian borrowers access finance.
"On behalf of The Adviser, I'd like to congratulate Redrock Group on their achievement, and all of the brokerages who made it into the ranking this year," she said.